"The beauty of arena gods is it's simplicity and the freedom it gives you."
The colosseum gates are now open!
WIN THE CROWD AND SEIZE GLORY
ARENA GODS IS SPECTACLE COMBAT
A top-down, arena fighting game where 2 to 4 gladiators compete for the crowd's favor in an anything goes death match spectacle. You are a gladiator. Brave the arena and win the crowd to seize godhood.
The gates of the Colosseum open! To be a gladiator in these times is to be one amongst untold thousands. It is to be bound to the bloodiest sport imaginable. It is a game you can play today, if you dare.
Forget certainty, for on the sands anything and everything can happen.
Forget mercy, for in the arena you will find none, only an endless cycle of conflict and carnage, and the thirsting roar of the mob.
But the mob is as powerful as it is fickle. Win their favor and you will seize glory. Disappoint them, and you will not be missed.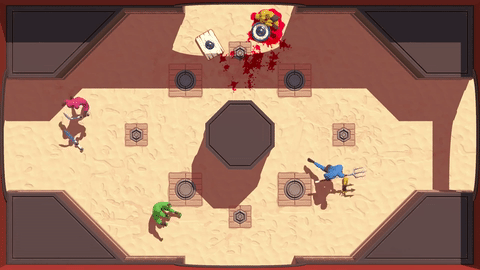 "At the end of the day, I was there for games, and no game blew me away quite like arena gods"