ARENA GODS ®
Developer: Supertype
Publisher: Supertype

International independent team
based in US, Brazil and UK
Release date: 2018
Platforms: Steam
Website: arenagodsgame.com
Regular Price: TBA
Inquiries: cake@supertype.com
Win the Crowd and Seize Glory
ARENA GODS® is Spectacle Combat, a top-down, arena fighting game where 2 to 4 gladiators compete for the crowd's favor in an anything goes death match spectacle.

You are gladiator. Brave the arena and win the crowd to seize godhood!
Fight armed or unarmed, strike or throw, standing or on the ground.

Every object can be picked up, wielded as a weapon, and thrown as a projectile.

Projectiles can be deflected or caught in mid air.

Most weapons kill in a single hit, but all can be disarmed.

Each weapon is unique with specific strengths and weaknesses.

The arena shifts and changes each round.
It is a game you can play
It is to be bound to the bloodiest sport imaginable.
To be a gladiator in these times is to be one amongst untold thousands.
The gates of the Colosseum open!today, if you dare.
Forget certainty, for on the Sands anything and everything can happen.
Forget mercy, for in the Arena you will find none, only an endless cycle of conflict and carnage, and the thirsting roar of the Mob.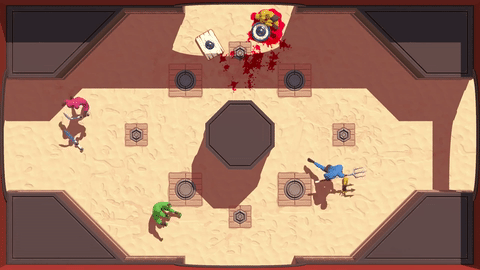 "PAX East 2017: A Look At Music And Games"
- Magfest, Magfest
​
"The Multiplayer Hit of SXSW - On The Front Line of SXSW 2016"
- Chris Watters, Gamespot
​
"Local multiplayer round-up: all the couch games we played at GDC"
- PC Gamer, PC Gamer
​
"Episode 279: Horrible Adorable"
- Idle Thumbs, Idle Thumbs
​
"Arena Gods - The Most Fun I Had at PAX East"
- Jack Rooney, Knerds Online
​
"4 Fantastic Indie Party Games from PAX East"
- Jacob Wood, Indie Hangover
​
"Our GDC 2016 Picks"
- Amanda Hudgins, Supersoul
​
"Murph's PAX East 2016 indie game awards"
- Mike Murray, Live Geek or Die
​
"Bit Bash: Chicago's Alternative Games Festival"
- D. L. Smith-Lee, That Videogame Blog
​
"A Taste of Bit Bash 2016"
- Alex Lupella, Hey Poor Player
​
"Upcoming Indie Game Gives Bread and Circuses a Modern Twist"
- Kevin Garcia, Monomythic

"Torne-se o Rei do Coliseu no Divertido Arena Gods" (PT)
- Raphael Bonelli, Doze Bits
The MIX @ SIGGRAPH 2015 Official Selection
​
Busan Indie Connect Festival 2015 Audience Award Winner
​
​
Day of the Devs 2015 Official Selection
​
The MIX @ GDC 2016 Official Selection
​
SXSW 2016 Gamer's Voice Multiplayer Award Finalist
​
BitSummit 2016 International Award Nominee
​
Games By The Sea 2016 Official Selection
​
The MIX @ EVO 2016 Official Selection
​
Bit Bash 2016 Official Selection
​
IndieCade 2016 Official Selection
​
Day fo the Devs 2016 Official Selection
​
SXSW 2017 Gamer's Voice Multiplayer Award Winner
Mark Parrish
Original Design, Supertype
Sandro Bihaiko
Development Lead, Supertype
Ricardo "Gandhy" Mello
Development
Rafael Ribeiro
Development
Arthur Masseli da Costa
Camera Animation
Steve Ross
3D Rigging
Justin Wilkinson
Logo Design
Anelise Daux
Community Support
Rodrigo Costa
Art Direction, Supertype
Kyle Chapman
Animation, Supertype

Sebastião Almeida
Development
Chris McMath
Development
Caio Lopez
Game Design
Marcello Lima
Game Design
Greg Puzniak
Technical Art

Amanda Bihaiko
Community Support